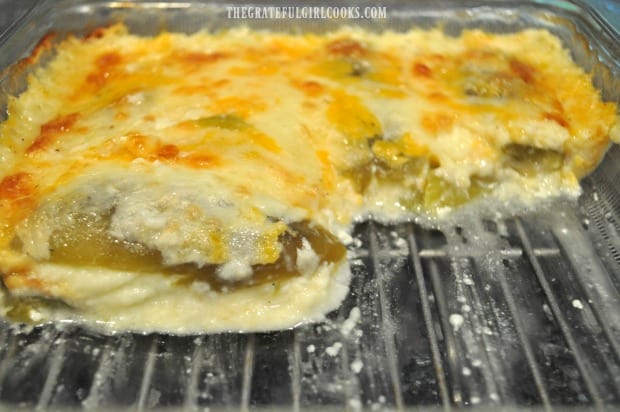 Easy Chiles Rellenos Casserole
Servings: 6
This scrumptious chile relleno casserole is easy to make, is vegetarian, and has all the Southwest flavors of the traditional dish, but it is baked, not fried!
Ingredients
10-12 chiles green or red, roasted with skins removed
3/4pound jack cheese grated
1cup cheddar cheese grated
2 eggs
1/2cup all-purpose flour
1 1/2cup milk
1teaspoon salt
1/2teaspoon black pepper
Directions
Spray a 9×9 inch baking dish with non-stick spray. Slice the chiles wide open; scrape out any seeds. Arrange half of the chiles in the bottom of the dish.

Sprinkle chiles with half of the grated jack and cheddar cheeses. Add remaining chiles in another layer on top of the cheese. Top with remaining jack and cheddar cheeses.

In a small bowl, whisk together eggs, flour, milk and salt until fully blended. Pour this mixture over the casserole, distributing evenly.

Bake casserole (uncovered) at 350 degrees for 30-35 minutes, until golden brown on top.

Remove dish from oven and transfer to a wire rack. Let it cool and firm up for a few minutes, then slice casserole with sharp knife into 6 equal sized pieces, serve (a spatula works great) and enjoy!