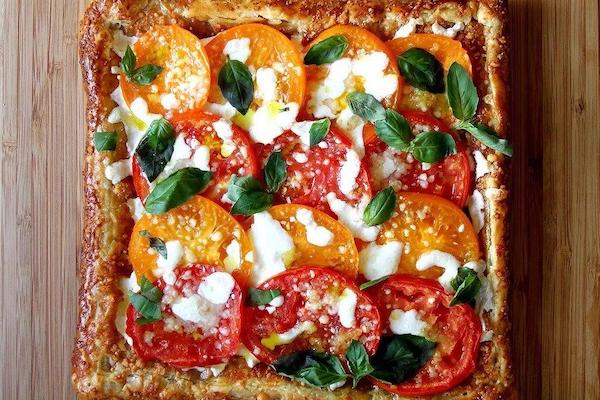 Heirloom Tomato-Mozzarella Tart
Servings: 4
Heirloom tomato varieties, such as 'Brandywine' and 'Striped German', have wonderful, rich flavors and meaty textures. Fresh basil complements their flavor without overpowering it.
Ingredients
8ounces frozen puff pastry sheets thawed
1tablespoon olive oil
1 onion large, peeled, halved, thinly sliced
salt
black pepper
3 red tomatoes medium heirloom
3 yellow tomatoes medium heirloom
3/4pound mozzarella
1handful basil fresh
olive oil
Directions
Preheat oven to 400 degrees. Thaw puff pastry. Add olive oil to a medium sauté pan over medium heat. Add onions, salt and pepper. Reduce heat to low and cook 20 to 30 minutes, until onions are a rich golden brown. Set aside.

Roll pastry on a lightly floured surface to a 12-inch square. Place on a lightly greased baking sheet or on a parchment paper-lined baking sheet. Prick throughout with a fork. Bake 8 to 10 minutes or until golden brown.

Remove from oven and cool on wire rack. Reduce heat to 350 degrees. When pastry is cool, use plate or cutter to cut 5-inch diameter rounds of pastry.

Slice tomatoes into 1⁄8-inch rounds; slice mozzarella into thin rounds. Remove and reserve tops of basil for garnish. Pick 15 to 20 leaves, stack them together, then slice into very thin strips.

To assemble tarts, place pastry circles on counter. On each, spread a thin layer of browned onions. Alternate layers and colors of tomatoes with cheese—red tomato, cheese, yellow tomato, cheese—atop onions, around circumference of tarts. You should fit 3 red, 3 yellow and 6 cheese rounds around each.

Place tarts back on baking tray. Drizzle with olive oil and sprinkle with basil; season with salt and pepper. Bake 8 to 10 minutes, until cheese melts and begins to brown. Garnish with reserved basil.